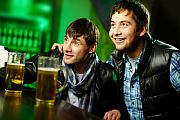 MONDAY, Sept. 28, 2015 (HealthDay News) — Lowering the legal drinking age from 21 to 18 might lead to a surprising consequence — more high school dropouts.
So claims a new study that found U.S. high school dropout rates increased between 4 percent and 13 percent in the 1970s and 1980s, a time when many states lowered the legal drinking age to 18. Dropout rates among black and Hispanic students rose more than among white students, the study revealed.
The findings don't prove that a lower legal drinking age leads to higher dropout rates, but they do suggest an association, said lead researcher Andrew Plunk, an assistant professor of pediatrics at Eastern Virginia Medical School in Norfolk.
"The minimum legal drinking age changes how easy it is for a young person to get alcohol. In places where it was lowered to 18, it's likely that more high school students were able to get alcohol from their friends," he said in a journal news release.
For vulnerable youngsters, greater access to alcohol lowers their chances of finishing high school, the researchers said.
By the mid-1980s, the legal drinking age was 21 nationwide, the researchers noted. But there is ongoing debate about lowering it to 18 in order to reduce binge-drinking on college campuses. Advocates of the change contend that young college students would drink more responsibly if they could legally buy alcohol at bars and restaurants.
However, proponents don't consider how a lower legal drinking age might affect high school students, Plunk said.
"I think this study gives us some idea of what could happen if we lower the legal drinking age," he said. "It suggests to me that we'd see this same dropout phenomenon again."
The study was published in the September issue of the Journal of Studies on Alcohol and Drugs.
More information
The U.S. National Institute on Alcohol Abuse and Alcoholism explains how parents can prevent youngsters from using alcohol.
Copyright © 2023 HealthDay. All rights reserved.