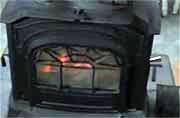 WEDNESDAY, Sept. 16, 2015 (HealthDay News) — While traffic exhaust and power plant emissions are the leading causes of air pollution deaths in the United States, that's not the case worldwide, a new study reports.
Instead, smoke spewing from wood-burning stoves, and ammonia wafting from fertilizer and manure are the world's two biggest sources of deadly air pollution, according to results from a computer model of pollution's effect on human health.
"Residential energy use is an inefficient form of fuel combustion that causes a lot of smoke, and is the foremost source of premature air pollution-related mortality in Asia," the region most affected by outdoor air pollution, said lead author Jos Lelieveld, a professor of atmospheric physics at the Max Planck Institute for Chemistry in Mainz, Germany.
Deaths because of outdoor air pollution will double globally by the year 2050 unless nations improve their clean air policies, Lelieveld and his colleagues concluded.
Nearly 3.3 million people across the world died in 2010 from illnesses related to outdoor air pollution, according to findings published Sept. 16 in the journal Nature.
That will rise to 6.6 million people by 2050, mainly due to very large increases in air pollution-related deaths in South and East Asia, Lelieveld said.
In their study, researchers combined a global atmospheric chemistry model with population data, health statistics and satellite imagery to estimate the damage done to human health from different sources of air pollution.
The investigators found that China suffers the most air pollution-related deaths, with an estimated 1.35 million in 2010. The other top nations include India (645,000), Pakistan (111,000), Bangladesh (92,000) and Nigeria (89,000).
The United States came seventh in the top-ranked countries, with an estimated 55,000 deaths linked to air pollution.
Dirty air mainly kills by affecting the heart and blood. "Strokes and heart attacks are responsible for nearly 75 percent of air pollution-related mortality," Lelieveld said. The remaining deaths are largely due to respiratory disease or lung cancer, he said.
Newer research tends to further implicate dirty air in health problems, said Dr. Norman Edelman, a senior consultant for scientific affairs with the American Lung Association.
"We didn't know until a few years ago that particulate pollution was a risk factor for lung cancer, but we know that now," he said. Tiny particles containing soot, metals and chemicals in auto emissions can be inhaled deep into the lungs.
But while traffic accounts for about 20 percent of air pollution-related deaths in the United States, it only contributes to 5 percent of such deaths worldwide, the study findings showed.
Stoves used to cook and heat homes — what the authors refer to as "residential and commercial energy use" — are the world's largest contributor to deadly air pollution, researchers found.
Of the 3.3 million deaths linked to outdoor air pollution, about 1 million are caused by the smoke from these stoves, the study authors reported.
People burn all sorts of things in these stoves — wood, coal, compressed peat moss, and even animal dung — and the smoke that billows out can do serious harm to the human body both indoors and outdoors, said Michael Jerrett, chair of environmental health sciences in the Fielding School of Public Health at the University of California, Los Angeles.
Smoke from wood-burning stoves causes half the air pollution-related deaths in India. It's also the leading cause of these deaths in China, Bangladesh, Indonesia and Vietnam, according to the study.
But efforts to replace dirty-burning stoves in India and China with cleaner, more efficient stoves have met with resistance. "The tradition is that you use particular methods as you've been taught by your parents and grandparents," Lelieveld said.
Agriculture is the second-biggest contributor worldwide to deadly air pollution, and it appears to make a serious impact on air quality in the eastern United States, researchers found. Ammonia wafting from fertilizer and manure combines with power plant smoke and car exhaust to form clouds of pollution from tiny air particles, Lelieveld said.
"In the eastern United States, simply more people are concentrated in a smaller area, so you have more people being exposed to air pollution," he added.
Agriculture serves as the top contributor to air pollution-related deaths in a number of developed countries, including Russia, Ukraine, Germany and Japan.
"That finding surprised me," said Jerrett. "I don't think many people have that on their radar screens as a source of particulate matter."
More information
For more on air pollution, visit the U.S. National Institutes of Health.
Copyright © 2023 HealthDay. All rights reserved.