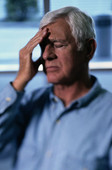 WEDNESDAY, Sept. 23, 2015 (HealthDay News) — Dizzy spells that occur after you've been standing for a few minutes might be an early warning sign of a serious neurological disease and an increased risk of premature death, a Harvard study has found.
For some people, this dizziness is caused by a gradual drop in blood pressure. And this "suggests the nervous system is failing and isn't maintaining blood pressure while you're standing," said lead author Dr. Christopher Gibbons, an associate professor of neurology at Harvard Medical School in Boston.
The condition is called orthostatic hypotension, and between 29 percent and 64 percent of people suffering from this blood pressure decline died during the 10-year study, depending on how quickly they became dizzy. By comparison, only 9 percent of healthy people in the study's "control" group died.
But, this study's findings don't mean that everyone who becomes dizzy while standing needs to be alarmed. There are a number of other causes of dizziness, including diabetes, dehydration, an inner ear problem or blood pressure medication, Gibbons said.
Dr. Paul Wright, chair of neurology at North Shore University Hospital in Manhasset, N.Y., added, "Patients should not be scared that if their blood pressure drops due to medication or dehydration that they are at a high risk of mortality."
It's also important to note that the new study was designed to find an association between orthostatic hypotension and a risk of early death; it cannot prove a cause-and-effect relationship.
Findings from the study were published online Sept. 23 in the journal Neurology.
Gibbons and his colleagues looked at both orthostatic hypotension (OH) and delayed orthostatic hypotension (DOH). OH is defined as a drop in blood pressure that occurs within three minutes of standing, while DOH is a blood pressure decline that takes place after three minutes of standing, according to background information in the study.
"This is a person who's been fine standing, and gradually gets worse and worse and worse, until they have to sit down," Gibbons said. "We're talking about people who feel like they're going to faint after standing in line at the grocery store or the Department of Motor Vehicles."
Orthostatic hypotension becomes more common as people get older, Gibbons said. By the time people are in their 60s or 70s, between 5 to 10 percent will have developed the condition, he added.
In the study, researchers reviewed the medical records of 230 people who underwent testing in 2002 and 2003 to see if their bodies were properly regulating their blood pressure and heart rate. Ten-year follow-up data was available for 165 of these people.
In the 10-year follow-up group, 48 started out with delayed orthostatic hypotension and 42 had been diagnosed with full-fledged OH, the study said.
The 10-year death rate for people who started out with delayed orthostatic hypotension was 29 percent, the study said. About 54 percent of participants with delayed orthostatic hypotension wound up progressing to OH within a decade, the investigators found.
Of the people who started out with OH, the 10-year death rate was 64 percent, according to the study.
Of those who had OH at the 10-year follow-up, 35 percent had developed a degenerative brain disease such as Parkinson's or dementia, the study said.
The results show that people who get dizzy even after long minutes of standing may be suffering very early signs of a neurological disorder, such as Parkinson's disease, Gibbons said. Orthostatic hypotension may serve as an early clue that something might be going haywire in a person's nervous system.
"Doctors need to be aware that a drop in blood pressure associated with dizziness could signify a serious problem, and additional evaluation may be necessary," he said.
However, Gibbons added that people who find themselves becoming dizzy while standing should not automatically assume that they're developing a degenerative brain disease.
The researchers suspect that blood pressure medication likely caused the dizziness that occurred in the people initially diagnosed with DOH who did not end up progressing to full OH, he said.
"By no means does it signify that they have [degenerative brain disease]," Gibbons said. "We don't think this is an enormous problem across the population."
Wright, who's also chair of neurology at Long Island Jewish Medical Center in New Hyde Park, N.Y., called the data "striking." But, he pointed out that the study involved a small number of patients that grew smaller during the follow-up period.
"A larger prospective study would be helpful" as a follow-up, he added.
"The data warrants a deeper and more extensive evaluation of this type of patient. It appears that consistent drops in blood pressure are not as benign as once thought," Wright said.
More information
For more on orthostatic hypotension, visit the U.S. National Institute of Neurological Disorders and Stroke.
Copyright © 2023 HealthDay. All rights reserved.