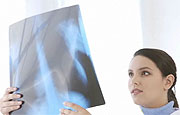 SUNDAY, Sept. 27, 2015 (HealthDay News) — A new study finds that the cancer drug nivolumab (Opdivo) extends the lives of some patients with advanced lung cancer for several months.
In a head-to-head comparison, patients treated with nivolumab lived an average of 12.2 months, while patients treated with the chemotherapy drug docetaxel lived an average of 9.4 months, the researchers reported.
"It looks like we have a new treatment option for patients with metastatic lung cancer that progresses after standard chemotherapy," said lead researcher Dr. Hossein Borghaei, chief of thoracic medical oncology at Fox Chase Cancer Center in Philadelphia.
"Now we have another tool, but we have to learn how to make it better so people can even live longer," he said.
The results of this phase 3 trial, which was funded by nivolumab's maker Bristol-Myers Squibb, were to be presented Sunday at the European Cancer Congress in Vienna, and published simultaneously online in the New England Journal of Medicine.
Nivolumab, a type of immunotherapy, works by blocking the protein PD-L1, which is produced by a gene mutation in the tumors of some patients. Blocking PD-L1 slows or prevents tumor growth, Borghaei explained.
At one year after treatment, 51 percent of the 292 patients treated with nivolumab were alive, compared with 39 percent of the 290 patients treated with docetaxel. At 18 months, survival was 39 percent among those treated with nivolumab and 23 percent among patients treated with docetaxel, the study found.
Most patients in the trial had advanced non-squamous, non-small cell lung cancer and were current or former smokers. They were an average of 62 years old and received nivolumab after being treated with traditional chemotherapy.
Nivolumab was most effective for patients whose tumors produced PD-L1. In these patients, nivolumab resulted in longer overall and progression-free survival than docetaxel, the researchers found.
About 30 percent of such patients have this mutation, Borghaei said.
Among patients without this mutation, both drugs prolonged life for about the same time, the researchers added.
The drugs caused the same number of side effects, but nivolumab caused fewer serious ones, the study authors reported. According to the study, 10 percent of patients treated with nivolumab had serious side effects, compared with 54 percent of patients treated with docetaxel.
Borghaei said serious side effects include thyroid problems, severe diarrhea and inflammation in the lungs.
He said that the better safety profile and the lasting response to nivolumab suggests it may be a treatment option for patients, regardless of whether or not they produce PD-L1.
But it is not cheap. Nivolumab is given intravenously every other week for at least a year and can cost about $10,000 a month, Borghaei said.
Nivolumab has already been approved by the U.S. Food and Drug Administration for treatment of metastatic melanoma and for metastatic lung cancer that has progressed after chemotherapy. Docetaxel is approved as a second-line treatment for advanced lung cancer, Borghaei said.
Lung cancer is the most common cancer around the world, according to the World Cancer Research Fund International. About 85 percent to 90 percent of lung cancer is non-small cell lung cancer.
Dr. Norman Edelman, senior consultant for scientific affairs at the American Lung Association, said, "This advance is not unlike other recent advances in treating lung cancer, conferring about three months additional survival."
Edelman added, "This is yet another example of the advances we are making in the treatment of lung cancer using the approach of targeting specific tumor genes and their mutations."
More information
Visit the American Lung Association for more on lung cancer.
Copyright © 2023 HealthDay. All rights reserved.