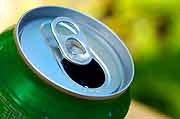 WEDNESDAY, Sept. 16, 2015 (HealthDay News) — People who drink a lot of sugar-sweetened drinks tend to have a poor diet overall, which could play a role in their risk for type 2 diabetes, scientists report.
Previous research has linked high consumption of sugary drinks with development of type 2 diabetes. This new finding suggests a more complicated scenario.
"As this study is cross-sectional, we can not draw any conclusions about causality or the exact effect of the diet or beverage," the researchers said. "However, our results indicate that the associations previously seen with sugar-sweetened beverages might be due to … individuals consuming a lot of these beverages also have a diet low in healthy foods, which in combination give associations with several chronic diseases such as type 2 diabetes."
The study involved more than 25,000 Swedes between the ages of 45 and 74. They were overweight, but had no signs of diabetes, heart disease or cancer.
The volunteers were interviewed about their food and beverage intake. They also kept a weekly food record and completed a lengthy questionnaire.
Using computer modeling, the researchers from Lund University in Malmo, Sweden, analyzed the participants' food intake. They also considered variables such as age, gender, physical activity, smoking, drinking habits and education.
They found drinking more sugary beverages was associated with eating fewer healthy foods. The most dramatic differences in food choice between this group and those with low consumption of sugary drinks was seen in fruits and vegetables, yogurt, breakfast cereal, high-fiber bread and fish.
"In contrast, high consumption of both tea and juice was significantly associated with higher intakes of foods perceived as healthy; the largest differences were seen for fruits, vegetables and yogurt," the study authors wrote.
Meanwhile, those who drank large amounts of artificially sweetened beverages ate more low-fat foods, low-fat milk and margarine. Coffee drinkers, on the other hand, ate more meat, high-fat margarine and less cereal, the study found.
The findings were to be presented Wednesday at the annual meeting of the European Association for the Study of Diabetes in Stockholm. The data and conclusions should be considered preliminary until published in a peer-reviewed medical journal.
More information
The U.S. Centers for Disease Control and Prevention provides more information on the health effects of sugary drinks.
Copyright © 2023 HealthDay. All rights reserved.