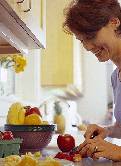 TUESDAY, Sept. 22, 2015 (HealthDay News) — Want to eat healthy and keep your waistline trim? Try reaching for more fruits and non-starchy vegetables, new research suggests.
A team of Harvard scientists looked at data on more than 133,000 American women and men who were followed for up to 24 years.
After adjusting for other lifestyle factors such as smoking and physical activity, the researchers found that as daily intake of fruits and non-starchy vegetables went up, risks for excessive weight gain went down.
However, consumption of starchy vegetables — foods such as potatoes, corn and peas — was linked with weight gain, says a team led by Monica Bertoia of the Harvard University School of Public Health and Brigham and Women's Hospital, in Boston.
The findings can't prove a cause-and-effect relationship. However, the study may "provide further food-specific guidance for the prevention of obesity, a primary risk factor for type 2 diabetes, cardiovascular diseases, cancers and many other health conditions," the researchers said.
The results were published Sept 22 in the journal PLOS Medicine.
Nutrition experts weren't surprised by the findings.
Erin Keane is a registered dietitian and assistant clinical nutrition manager for outpatients at Lenox Hill Hospital in New York City. She said that difference between starchy and non-starchy vegetables has to do with what's known as "glycemic load."
"Lower glycemic load foods are thought to produce fewer blood glucose spikes, which can decrease hunger and potentially reduce total calorie intake over the course of a day," Keane explained.
Vegetables that are classified as lower glycemic load include broccoli, cauliflower, cabbage, Brussels sprouts, kale, chard, spinach, romaine lettuce, tofu/soy and peppers, Keane said.
High glycemic load vegetables — including starch-laden potatoes and corn — may be less healthy in terms of weight gain, she said.
Fiber may be important, too: Keane noted that high-fiber vegetables were also tied to better weight control when the Harvard team factored out potato intake.
As for fruit, berries with a low glycemic load appeared to have the biggest impact in terms of keeping excess weight off, she said.
Keane stressed that the study focused on relatively healthy, white, well-educated adults, so "we can't generalize these findings to all individuals."
Another dietitian said eating plenty of fruits and vegetables is always a good idea.
"Fiber-rich foods, such as many of the ones evaluated in this study, help control hunger and keep blood sugar levels stable — two elements that can help facilitate weight loss and healthy weight maintenance," said Dana Angelo White, a clinical assistant professor of athletic training and sports medicine at Quinnipiac University in Hamden, Conn.
More information
The U.S. National Library of Medicine has more about weight control.
Copyright © 2023 HealthDay. All rights reserved.