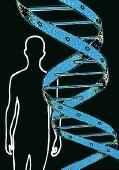 WEDNESDAY, Sept. 23, 2015 (HealthDay News) — There may be a genetic link between being tall and being thin, a new study indicates.
Researchers from Australia looked at nearly 9,500 people in 14 European countries and found a strong connection between genes that boost height and those associated with lower amounts of body fat.
The findings, published recently in the journal Nature Genetics, could prove important in determining whether genes play a role in nations' different rates of health problems such as heart disease, diabetes and dementia, the researchers said.
The results may also explain why people in northern European countries such as Sweden, Norway and Finland tend to be taller and slimmer than other Europeans, the researchers said.
"The research suggests that tall nations are genetically more likely to be slim," study co-author Peter Visscher said in a University of Melbourne news release. He is professor and chair of quantitative genetics at the University of Queensland.
Only 24 percent of genetic variation in height and 8 percent of genetic variation in body mass index (BMI, an estimate of body fat based on height and weight) can be explained by regional differences, said study co-author Matthew Robinson of the Queensland Brain Institute at the University of Queensland.
"Countries' populations differ in many ways, from the height of their people to the prevalence of certain diseases," he said in the news release.
While genetic variation between countries could explain national differences in height, environmental factors are the main influence on a population's BMI, Robinson said.
"This suggests that differences in diet, for example, are more important than genetics in creating differences in BMI among nations," he concluded.
More information
The U.S. National Library of Medicine has more about body weight.
Copyright © 2023 HealthDay. All rights reserved.