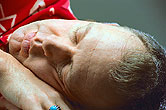 TUESDAY, Sept. 29, 2015 (HealthDay News) — An implantable pacemaker-like device might improve sleep patterns and quality of life for people with sleep apnea, a new study contends.
The treatment, called cranial nerve stimulation, is designed to open upper airway passages during sleep. In a small study, roughly four of five recipients were still using the patient-controlled device nearly three years after implantation surgery.
That's important, said the researchers, given that more than half of sleep apnea patients fail to stick with the current standard of care — a nasal mask and pump known as "continuous positive airway pressure," or CPAP.
"Sleep apnea probably affects about 10 percent of the middle-aged adult population," said study lead author Dr. B. Tucker Woodson, a professor and chief of sleep medicine at the Medical College of Wisconsin in Milwaukee. "It's common. And CPAP is the most common device that is currently used as a treatment to hold the airway open overnight."
However, many patients are unable to use CPAP successfully, he said. Some find it uncomfortable and can't tolerate the mask and the pressure. "It can even make their sleep worse, not better," he added.
"But with this implantable device what we've seen is an almost normalization of their sleep problems, along with a very promising level of long-term adherence," Woodson said.
He and his colleagues are scheduled to discuss their findings this week at a meeting of the American Academy of Otolaryngology-Head and Neck Surgery Foundation in Dallas. Until the results are published in a peer-reviewed medical journal, the data and conclusions should be considered preliminary.
Their work was funded by the device manufacturer, Inspire Medical Systems of Maple Grove, Minn.
Sleep apnea is a chronic condition in which breathing is briefly but repeatedly interrupted throughout sleep. It's associated with a higher long-term risk for developing high blood pressure and heart disease, alongside diminished energy and mental sharpness.
According to the National Sleep Foundation, age, genetics and modifiable lifestyle factors — such as being overweight — are thought to play a role in sleep apnea.
Unlike a heart pacemaker which operates continuously, the battery-operated "cranial nerve upper airway stimulation device" is only activated by patients at bedtime with a remote control. It's implanted under the skin of the neck and chest via surgery, and the manufacturer says the batteries last between eight and 11 years.
For this study, the team followed 116 sleep apnea patients for 36 months following device implantation under general anesthesia. Ten other patients who had the device implanted dropped out of the study. All had previously tried and failed to adhere to CPAP treatment. Device implantation costs are often covered by insurance for such patients, said Woodson.
The treatment was effective for more than half of the patients, based on sleepiness levels, sleep-related quality of life, diminished snoring and oxygen intake levels. And 81 percent were still routinely using the device three years out, the study found.
The study results drew mixed opinions from sleep experts.
The results "are certainly promising that this therapy is effective," said Rebecca Spencer, an associate professor in the department of psychological and brain sciences at the University of Massachusetts, Amherst.
"A study comparing these approaches will be necessary, but it seems promising that this may be more complied with and perhaps provide equivalent outcomes [to CPAP]," she said.
Dr. Neomi Shah, associate director of the pulmonary sleep lab at Montefiore Medical Center in New York City, was more reserved.
"It's a novel treatment approach," she said. "Quality of life does seem to improve at least in the short run. And although we don't yet know what the long-term cardiovascular outcome will be, it's certainly great to have alternatives to the current standard of care."
But Shah wonders if patients will want to undergo invasive surgery to have a system implanted that will deliver the results that CPAP offers. "CPAP is very effective. In fact, when it's used properly it essentially cures the condition in the vast majority of patients," she said.
Shah said she believes CPAP is the right technology for most sleep apnea patients. The problem isn't discomfort, it's "how we deliver the treatment," she said. "We simply need to do a better job of educating our patients, providing helpful instruction, and allowing for follow-up and appropriate feedback."
More information
There's more on sleep apnea at the National Sleep Foundation.
Copyright © 2023 HealthDay. All rights reserved.