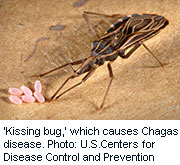 TUESDAY, Sept. 22, 2015 (HealthDay News) — Blood-sucking insects commonly found in Texas are often carriers of a deadly parasite that causes Chagas disease, a new study finds.
The bugs — also known as "assassin bugs" or "kissing bugs" — can carry a parasite called Trypanosoma cruzi that causes Chagas disease, said researchers from the University of Texas at El Paso (UTEP). Texas residents appear to be at much greater risk for this disease than previously thought, the researchers warned.
"It surprised me that so many of them were carrying the parasite. I was expecting to have some, but this is quite high," study leader Rosa Maldonado, an associate professor of biological sciences at UTEP, said in a university news release. "Doctors usually don't consider Chagas disease when they diagnose patients, so they need to be aware of its prevalence here."
Chagas disease is spread when insects carrying T. cruzi are feeding on someone's blood. The insects drop their contaminated feces on the skin while they're feeding. This fecal matter can then enter the bloodstream through the bite wound, allowing the parasite to affect the heart and gastrointestinal system, the researchers said.
Life-threatening symptoms, such as an irregular heartbeat, trouble eating and passing stool, occur in 30 percent of patients who are infected with the parasite, the researchers explained. The disease can also cause enlargement of the esophagus, colon and heart. In some cases, those infected with T. cruzi can develop heart failure.
To determine how prevalent T. cruzi is among insects in west Texas, the study authors collected and tested 39 "kissing bugs." Of these bugs, 61 percent were infected with the parasite, the study found.
Results were published in the October issue of the journal Acta Tropica.
The researchers noted that pets, such as dogs and cats, are also vulnerable to the parasite.
Getting bitten by an insect is just one way to become infected. People who are already infected can spread the parasite through organ transplants and blood transfusions. A woman who is infected can also pass the infection to her unborn baby. Foods and drinks that contain contaminated "kissing bug" feces can also spread Chagas disease, the researchers said.
More information
The U.S. Centers for Disease Control and Prevention provides more information on Chagas disease.
Copyright © 2023 HealthDay. All rights reserved.