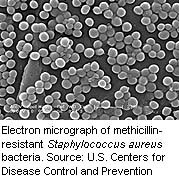 FRIDAY, Sept. 18, 2015 (HealthDay News) — As concerns over antibiotic resistance grow around the world, researchers report they've discovered a promising new group of antibiotics.
These new drugs contain iridium, a transition metal that doesn't break down easily. This may help the antibiotics treat superbugs, such as MRSA (methicillin-resistant Staphylococcus aureus), the researchers said.
"We are still at the beginning of developing and testing these antibiotics but, so far, our preliminary results show a new group of antibiotics that are effective and safe," said Joseph Falkinham, a professor of microbiology in the College of Science at Virginia Tech in Blacksburg and an affiliate of the Virginia Tech Center for Drug Discovery, in a university news release.
"Within the next few years, we hope to identify various characteristics of these antibiotics, such as their stability, their distribution and concentration in animal tissue, their penetration into white blood cells, and their metabolism in animals," he said.
Tests showed the new compounds are nontoxic to animals and animal cells in the lab, and effective against bacteria.
The study was published recently in the journal Medicinal Chemistry Communications.
"So far our findings show that these compounds are safer than other compounds made from transition metals," study author Joseph Merola, a professor of chemistry in the Virginia Tech College of Science and an affiliate of the Virginia Tech Center for Drug Discovery, said in the news release.
The team is currently testing the compounds in human cells in the lab. So far, the cells have remained healthy and normal, the researchers said.
The researchers said their findings might one day provide new hope for more than 2 million people in the United States affected by antibiotic resistance. In 2013 alone, MRSA caused nearly 10,000 deaths in the United States, according to the U.S. Centers for Disease Control and Prevention.
"The biggest question scientists have to ask to tackle antibiotic resistance is, how can we stay on top of the bacteria? Fortunately, these new organometallic antibiotics are coming at a time when bacteria have not evolved to resist them," said Merola.
More information
The U.S. Centers for Disease Control and Prevention provides more information on antimicrobial resistance.
Copyright © 2023 HealthDay. All rights reserved.