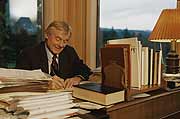 THURSDAY, Sept. 24, 2015 (HealthDay News) — Seniors who keep working appear healthier than those who quit the workforce, new research suggests.
The study of more than 83,000 Americans 65 and older found that being unemployed or retired was associated with the greatest risk of poor health, even after taking into account predictors such as smoking and obesity.
"We know that remaining in the labor force is good for us," said Jay Olshansky, a professor at the University of Illinois at Chicago's School of Public Health and a spokesman for the American Federation for Aging Research.
Olshansky, who had no part in the study, added, "Not working can lead to overall poorer health."
However, Olshansky said, the study doesn't prove that working keeps you healthy.
"You can't say that because you retired [it] caused you to lose your health, or the fact that you continued to work caused you to stay healthy," he said. "Of course, people who are unhealthy tend to quit working."
But if you can work, you should keep on working, Olshansky said. "Your chances of remaining healthy longer are better if you continue working," he added.
The report was published in the September issue of Preventing Chronic Disease, a publication from the U.S. Centers for Disease Control and Prevention.
For the study, led by Diana Kachan from the University of Miami, researchers used government survey data on more than 83,000 adults aged 65 or older from 1997 through 2011.
According to the study, workers in the most physically demanding jobs had the lowest risk of bad health. Service workers, for example, had the lowest risk of suffering from conditions that limited their functioning. Blue collar workers had the lowest risk of having chronic conditions and limits to functioning, the researchers found.
The better health among blue collar workers may be because of the amount of physical activity these workers do, compared with the sedentary work of white collar jobs, the study authors suggested.
Olshansky, said that, "The only way these workers can stay in the labor force is to have better health."
Kachan and her colleagues also found that for seniors in jobs with lower status and pay, working can benefit health by increasing social contact and income, and by providing more comprehensive health insurance.
"Older adults who continue working tend to be much healthier across multiple health outcomes, but perhaps providing better workplace accommodations for older adults with functional limitations would allow more of them to join the ranks of their healthier peers," the researchers wrote in their report.
Given these findings, Olshansky suggested that people should not be forced to retire based on age.
The report noted that according to the U.S. Bureau of Labor Statistics, people aged 65 and older are projected to make up about 22 percent of the U.S. workforce by 2022.
"We shouldn't be forcing people out of the labor force if it's going to have a harmful effect on their health, and if they want to continue working and they are able to do their job," Olshansky said.
"Remaining in the labor force is healthier for you. It's healthier because working keeps you physically and mentally engaged," he added.
More information
For more on healthy aging, visit the U.S. Centers for Disease Control and Prevention.
Copyright © 2023 HealthDay. All rights reserved.