Health Highlights: July 27, 2015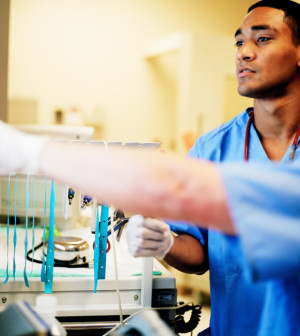 Here are some of the latest health and medical news developments, compiled by the editors of HealthDay:
Brain-Eating Amoeba Found in Water Supply of New Orleans-Area Parish
A brain-eating amoeba has been detected in the water supply of a New Orleans-area parish for the second time in two years, according to officials.
After the discovery of Naegleria fowleri in the water of St. Bernard Parish, state health officials ordered a 60-day chlorine "burn" of the water system to eliminate the pathogen, ABC News reported.
It's not known how prevalent the amoeba was in the water system of the parish, located five miles from downtown New Orleans.
Water was being flushed and retested to determine if the amoeba was present anywhere else in the 225-mile water system, according to Jacob Groby, quality control chief for St. Bernard Parish Water and Sewer Division, ABC News reported.
Naegleria fowleri naturally occurs in freshwater and can be deadly if it enters the body through the nose and travels to the brain. The amoeba does not harm people if they drink it or if it gets on their skin.
In 2013, the amoeba killed a 4-year-old boy in St. Bernard Parish. Health officials said he was infected while playing on a slip-n-slide, ABC News reported.
—–
Autopsy Planned for Bobbi Kristina Brown
An autopsy is planned to determine what led to the death of Bobbi Kristina Brown, according to the Fulton County Medical Examiner's Office in Georgia.
She died Sunday at Peachtree Christian Hospice in Duluth, Georgia at age 22. She was the only child of Whitney Houston and Bobby Brown.
On Jan. 31, Bobbi Kristina was found face-down and unresponsive in a bathtub in her suburban Atlanta townhome. A police report described the incident as a drowning, the Associated Press reported.
The time that elapsed from when she was found until her death will "complicate" efforts to determine what happened, the medical examiner's office said in a statement Monday morning.
While interpreting autopsy findings will be challenging, the medical examiner said they could help answer questions about what caused Bobbi Kristina to become unresponsive, the AP reported.
​​